Artist Statement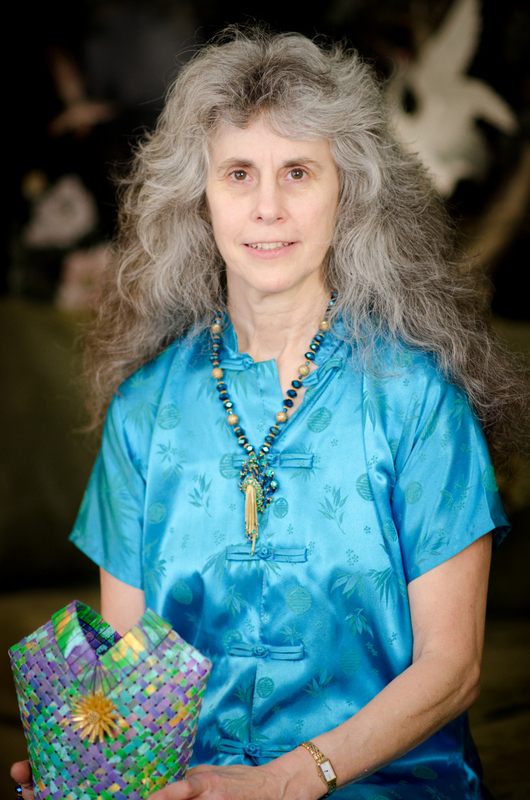 I began making jewelry in 2004, using a variety of natural, vintage, and contemporary components, along with high-end vermeil, sterling silver, copper, brass, and other metals.
In 2014, I began creating woven fiber art baskets and sculptures by hand painting and texturizing water color paper with acrylic paints. This allows me to create my own fiber to use for weaving three-dimensional pieces, involving over thirty steps.
Because of my background in working with jewelry components, I often embellish my woven fiber art pieces with jewelry, feathers, and other interesting objects.
Early on, I was inspired by a variety of traditional and contemporary basketry weaving styles, especially complex twill and triaxial weaves. I was also inspired by basket patterns designed by Jackie Abrams, Billie Ruth Sudduth, Lyn Syler, Patti Quinn Hill, Shareen LaPlantz, Tressa Sularz, and others. And now my own patterns are emerging as I explore and discover.
My training as a dancer, choreographer, and Alexander Technique teacher has taught me about balance, transitions, integration, dynamic stability, and the integrity of tension and tone. All these qualities come into play in creating a seamless continuity that shapes and defines space, emotes, tells a story, brings the unexpected, and may take the observer on a journey of their own.
I find in creating art, there's a similarity to the spontaneous interplay in couple dancing:  as the artist I'm following where the creative flow leads and I embellish my partner's lead as it unfolds.  A kind of metamorphosis takes place – the opportunity to change and move in new directions, bringing renewal and momentum.
It really is about the journey…learning, growing, and knowing, becoming refined by experience.  Giving myself the opportunity to reinvent, and be transformed.
In Make Your Brain Smarter, Neuroscientist Sandra Bond Chapman, said innovation involves the unknown, paradox, and infinite possibilities.
Jewelry and fiber art allow me to integrate colors, textures, and patterns, with seemingly disparate components, until there is a beautiful, harmonious, and uplifting melody.
This is how I know when one of my pieces is finished…it sings..and tells its own tale of intrigue and paradox.
For me the highest expression of art is to bring beauty, joy, love, and harmony into the world; which may inspire others to create in their own unique way.
—Lisa Galbraith Heyl
* * *
Since you're an expression of the Sound and Light of God, do you want to bring beauty, joy, love, and harmony to the world?  Then choose words that do that.  The words you speak are an expression of what you are and what you'd like to be.
—Harold Klemp, A Modern Prophet Answers Your Key Questions about Life, p. 13
* * *
Awards and Honors
2018 Primavera – Plymouth Art Council's Juried Exhibit – Award of Excellence (Whirling Dervish)
2018 National Basketry Organization's, Inaugural Members In-Print Juried Exhibit –  Whirling Dervish was one of 37 works selected from 163 entries, by Juror Jane Sauer.  Selected works will be published in the Summer 2018 edition of the Quarterly Review, NBO's full color magazine
2018 American Swedish Institute – Arts North – Spring Edition Exhibit – Sultana was juried and selected by ASI Director, Curt Pederson, to travel from the 2018 Arts in Harmony Exhibit.
2018 Arts in Harmony – International Juried Art Show – Sculpture Fourth Place (Sultana)
2017 Hopkins Center for the Arts – Fall Members' Juried Exhibit – (Saguna)
2017 Minnesota State Fair – Creative Activities – Fourth Premium Place – Basketry, Plait (Gift Waves)
2017 Beyond the Basics: Jackie Abrams & Friends – Juried International Exhibition – FibreWorks Studio & Gallery in Madeira Park, BC Canada (Essential Elements and Heat Wave)
2017 National Basketry Organization's, All Things Considered 9:  Basketry in the 21st Century – Harlequin's Riddle of Juxtaposition was one of 70 works selected from 322 entries, by Juror Lloyd Herman, the founding director of the Smithsonian American Art Museum's Renwick Gallery.  Selected works were published in a full color catalog.
2017 Hopkins Center for the Arts – Members' Spring Show – Honorable Mention (Aqua Terra Flora)
2017 Niche Awards – Finalist – Woven Basketry (A Jewel of Pagoda Wisdom)
2016 Minnesota State Fair – Creative Activities – Second Premium Place – Basketry, Plait (Harlequin's Riddle in Juxtaposition)
2015 Hopkins Center for the Arts – Members' Spring Show – Honorable Mention (Graceful Transcendence)
Publications
National Basketry Organization, Winter 2019/2020/ Issue 77 – 2nd Biennial Members In Print Exhibition, p.2 (Whirling Dervish interior image used in ad)
Sun Sailor, January 10, 2020 (Azteca mentioned in photo with article on the 2020 Arts North exhibit)
National Basketry Organization, Summer 2018/ Issue 71 – Members in Print:  Vessels, p.12 (Whirling Dervish – 2 images, exterior and interior)
National Basketry Organization, 2017 All Things Considered 9, Basketry in the 21st Century (Harlequin's Riddle in Juxtaposition, p. 54)
Lake Minnetonka Magazine, "A Fair to Remember," pp. 42-43 (I was interviewed and featured as an artist competing and my piece, Harlequin's Riddle in Juxtaposition, receiving a second premium place in the 2017 Creative Activities  Handcraft, Basketry-Plaited competition.
Affiliations – Current and Former
NBO (National Basketry Organization)
Core & Host Artist on the Lake Minnetonka Studio Tours
Hopkins Center for the Arts
American Crafts Council
Textile Center of Minnesota
Minnetonka Center for the Arts
Acknowledgements
Tabra Tunoa– indirectly inspired me to make necklaces and bracelets to go with her amazing earrings
Nancy Jacobs– her YouTube videos taught me basic basketry skills and techniques, and how to make my first basket using her basket pattern
Sherri West– kindly helped me find a teacher in the west metro and has passed on lots of useful tips, suggestions, and encouragements
Susan Dickman– helped me get started with knowing what tools I needed, ordering basketry supplies, taught me how to wet reed and start my first reed basket, has and continues to encourage and support me all along the way
Jackie Abrams– taught my first basketry workshop:  introduced me to bias plaiting, painting using acrylic paints on heavy watercolor paper, using the pasta machine to cut weavers, lashing on a rim using the blanket stitch, braiding with paper weavers, and shared her wonderful kimono and pillow basket patterns, and experimenting with asymmetrical plaiting sculptures.
Patty Carmody Smith– has been an inspiration, wonderful friend and supporter, she's brought me into the west metro art community and shared her artistic journey and made my own easier
Andrea Altman– another friend and local artist who's been encouraging and generously offering suggestions of resources and avenues to pursue
Jack– my husband has lovingly supported and enthusiastically admired my pieces, one by one over the years and has helped me in a variety of ways, often quietly behind the scenes
My mother– from my early childhood, she encouraged, supported, and transported me to studies of performing arts (dance, music) attended recitals and performances, encouraged me in other artistic pursuits and is a watercolor artist herself and has been a jewelry lover most of her life
Suzanne– my sister has been very supportive, encouraging, and has been lovingly promoting my artistic endeavors and pieces throughout the years, and she is also a jewelry lover and promoter of the fine and performing arts
Lois– dear friend and amazingly talented artist who lovingly created beautiful graphics for my website and business/post cards
Imogen– wonderful fellow Alexander Technique teacher and web designer for both of my professional websites; she makes it so easy and effortless, and is truly gifted
Bethany– such a talented lady (opera singer and photographer) and new friend; her photographs of my art truly present them in the best way and light, and it makes it even more special to work with her with the Alexander Technique as well
Laura E.– great friend and supporter of my work, enjoys wearing it, a fellow color enthusiast, and has steadfastly been encouraging me for many years
Catherine– wonderful friend with loving enthusiasm and appreciation for my artistic process and evolution in creative expressions, she encourages me to go even deeper and explore further, and graciously shares her joy in my pieces
Mary– dear friend who is a true inspiration artistically and in other loving ways, and has encouraged me and supported my artistic endeavors over almost forty years
Kristy– her talent for friendship and nature life photographer is truly special, she caught a wonderful moment with Jasmina and Tabrizo during a photo shoot that appears on this website
Michael C.– encouraged me from the very beginning in making jewelry, and continues to support and appreciate my artistic endeavors
Michael E.– has helped me over the many years of our friendship and introduced me early on to a more artistic and polished way to market yourself and art
Marcia and Bob Paul– for their gracious and generous time and skills in photographing some of my art for the Lake Minnetonka Studio Tour brochures and website and to use on this website
Lake Minnetonka Studio Tour Artists– for allowing me to join in your 2015 events and May tour as a guest artist, it's wonderful to be a part of such a talented and diverse group of artists